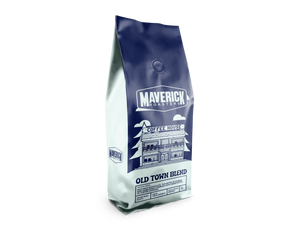 Old Town Blend
Sale price Price $17.00 Regular price
A small business with a retail shop in Ulladulla on the South Coast of NSW. We also have additional roasting facilities in Sydney.
Freshly roasting only the best coffee beans from around the world.
Proudly supplying some of the finest businesses on The South Coast and across NSW.
View Our Range
ROASTING
The senses of sight, smell, sound and touch all form the foundations of craft roasting. 
At Maverick we aren't opposed to roasting both light and dark because we understand that roasting coffee for milk, espresso and filter all require different approaches. When we roast, we roast with conviction to bring out the personality of each coffee for each purpose of use.
Unlocking a coffee's potential takes patience, passion and is far more complex than most end users will ever know and ever need to know because that's why we are here; to do it for you.
We invest a huge amount of time and energy into sourcing our coffees and ensuring that the quality of the beans is preserved when we roast.